"Wood strip boats are more than having a boat. They are functional art that people build out of wood with their hands"
- Gorge Living- Spring'06
"Discover some of the most beautiful wooden canoes and kayaks ever built. Whether you want to own a piece of practical art handmade by a master or learn the timeless skills yourself, boat builder Ray Klebba, owner of White Salmon Boat Works, has all the options." more>>
- Fine Living TV Network:"The Genuine Article" Dec'03 video>>

Other references to Ray's boats in the media
Ray's boats have received numerous awards
Tips from Ray:
How to select a canoe. . . and . . .
Understanding sea kayak design.

Our Wedding in a canoe.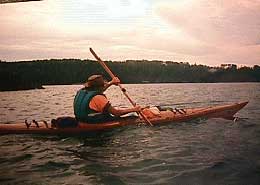 Portland Wooden Boat Show 2001, 2006 , 2013 Awards:
Kenosha: "Best Paddle Boat" The White Salmon Pram:"Best Row Boat"
MCA Builders Show 1999 Award:
Polar Star:"People's Choice Award"

Have you dreamed of owning or building your own woodstrip boat?
Somehow there was always a very good rationale why you didn't...
You didn't have the right tools or the space to build....
You thought it would be too difficult....
You thought it would cost too much....
Stop dreaming and start building
Build or buy your own dreamboat today
White Salmon Boat Works is a dynamic boat building shop!
We can help you fulfill your dreams now!
Boat Kits
We have the most complete kits available -Period
Check out other kit builders to compare – "you'll be back"
Canoes, Row Boats, Seakayaks, Plans & Kits!
START HERE