The Forever Canoe Seat and Backrest
Backrest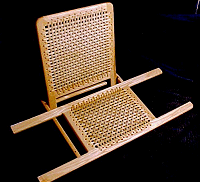 Backrest w/Seat
$250
(Buy now)

If you like fishing out of a canoe or rowboat, or you're planning a long expedition or maybe you just want a lazy afternoon paddle - this is the backrest for you. This backrest really works! Like all Forever canoe seats they are "guaranteed" for the life of the seat.
The best feature of the Forever Canoe Sea Backrest is that it's adjustable. It has two positions for a comfortable fit, 80 degrees and 70 degrees. This seat is comfortable for long periods of seating - no backaches here. What's really handy about this seat is that you can portage your canoe without hand-carrying the seat. The Forever Canoe Seat Backrest is easy to install - simply bolt it to your existing seat with four stainless steel bolts that are provided. The materials used in the Forever Canoe Seat are the same as in the construction of the Forever Canoe Seat Backrest.

Height of backrest from the seat is 16". Backrest webbing size is 11 inches square - folded seat is 4 inches deep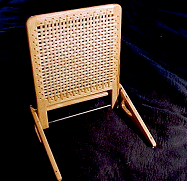 Backrest without seat
$169
(Buy now)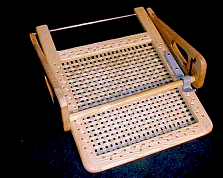 view of backrest when folded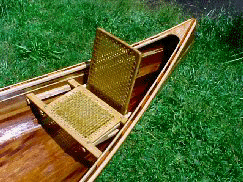 More Info & Photos of Back Rest
Forever Canoe Seat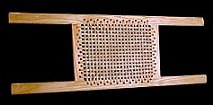 Canoe Seat
$75
(Buy now)
Finally!! A Canoe Seat that is built to last forever - well almost forever. The Forever Canoe seat is constructed with the finest 3/4"white ash hardwood (other hardwoods are available). There are two (eight total) ¼" x 3" hardwood dowel pins in each Forever Seat joint(s). We use only the strongest lacing as possible - 1/4" nylon tubing. This is the same webbing that was I originally used for lacing wooden snowshoes - extremely abrasion proof. The tubing ends are epoxyed at the bottom of the seat for strength and there are NO cumbersome knots to get caught on. Gorilla glue is use to hold the frame together for lasting strength. Finally, three coats of the finest varnish from Z-Par. This "Captains" varnish has the highest concentration of UV flitter available! Three coats are applied for a durability, protection which gives it a beautiful golden brown color.

Seat Risers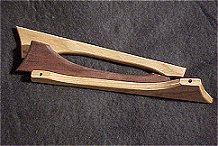 Seat Risers
$16
(Buy now)

The Forever seats are very comfortably for long periods of seating - no waffle butt here. The Forever seat are 31" x 11" with seat-print 8" x 11". Larger seat sizes are available for an extra five dollars. Remember The Forever Canoe Seat is guaranteed it for life. Custom woods are also available for a modest charge.